Home:
Grafting Tips:
TAMU Grafting:
Fruit Trees:
Citrus Trees:
Around the
yard:
Useful stuff:
Our Edible Landscaping:
Talbert Farms:
18,000 visitors since the beginning
Visitors since 20Feb05
Raspberry Tangor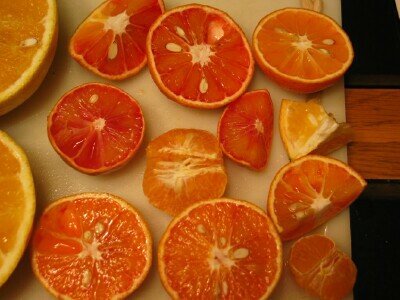 Satsumas & Satsuma Hybrids Recommended
for Testing On the Texas Upper Gulf Coast
Satsumas (Early-before November)
Miyamoto
Takabayashi
Ueno
Miyagawa
Okitsu
Miho
Satsuma Tangors
Iyokan (Miyagawa x Unknown Sweet Orange)
Miyauchi Iyo (Early ripening Iyo Mutant)
Othani Iyo (Later ripening Miyauchi Mutant)
Kiyomi (Miyagawa x Trovita Navel Orange), zygotic
Seto (Sugiyama Unshiu x Trovita Navel Orange), nucellar
Satsuma-Tri-variety Hybrid
Shiranuhi ( Kyomi x Pokan)
The primary source of this budwood, would most likely be the Department of Citriculture at Okitsu, Shimizu, Shizuoka 424-0292 Japan. The principal Satsumas we have now are of Owari origin and ripen November through December. We need earlier ripening varieties such as those listed above. They should prove to be equally as hardy as Owari with better quality fruit. We already have a Raspberry Tangor (Umatilla x Moro). This Tangor represents a hybrid between Satsuma and Blood Orange with enough Blood Orange chromosomes to make a good quality red fleshed Tangor that has a raspberry flavor, as well as similar hardiness characteristics of the Satsuma. Besides the Raspberry Tangor, there are varieties of Navel Oranges, such as the Glen Navel, Everhart Genetic Dwarf Navel, Marrs Early Navel and Dwarf Cara-Cara Red Navel, which do well here and are almost as hardy as Satsuma. All our scions are grown on Trifoliate or Flying Dragon as they have proven to be the best rootstocks for this area. Ponkan does very well here, except that it is, not as hardy as Satsuma or the Navel Orange. Therefore, Shiranuhi, being a tri-generic hybrid, should be of high quality and hardier than Ponkan itself. The Texas Upper Gulf Coast is an area of year-round high humidity and high rainfall, making our area one of the best, if not the best, Satsuma growing areas in the United States.
NewHybrids.htm