Ujukitsu Sweet Lemon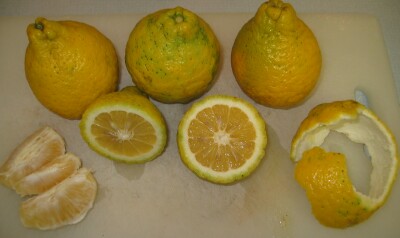 This is one of the most unusual and unique citrus fruits I have ever come across. The fruit tastes like lemonade. The shape of the fruit is like a minneola tangelo with a maybe more pronounced "neck." It peels like a mandarin and the sections separate easily. The flesh is yellow, somewhat seedy. Thanks to Sam and Ginger of Santa Fe, TX for giving me a few fruit this year to enjoy.
Grapefruit grown 460 miles north of the citrus belt!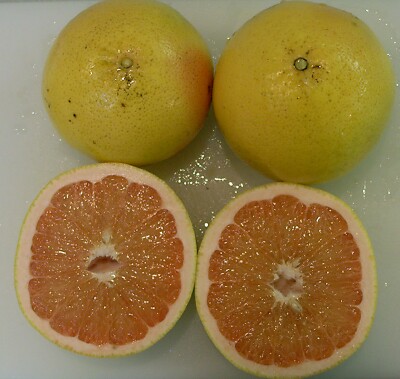 These grapefruit were grown in Bridge City, TX. My friend brought back a sack of pink grapefruit from Florida more than 20 years ago and planted some seeds. Budwood from the seedling tree is now grafted to trifoliate rootstock, is 35-40 feet tall and is covered with bushels and bushels of fruit. He also budded some wood to flying dragon rootstock and that tree is only about 8 feet tall. The fruit tastes as good as anything grown in Florida.